Accommodations Info
The wedding ceremony and reception site is Hiddenbrooke Golf Club in Vallejo, CA. This is in the NE Bay area, is a pretty town, and is about a 45 minute drive from San Francisco or 20 minutes from Napa. This means that there are many, many places that you could choose to stay when you come for the wedding.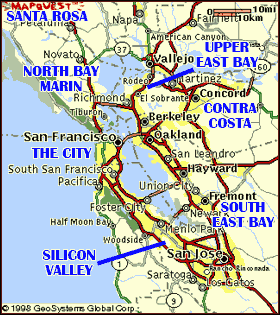 Most people have expressed interest in staying right in Vallejo, so we've collected up some information on accomodations there. Regardless of where you stay and which airport you come to (SFO or OAK - both around 30 miles from Vallejo), you'll likely want a rental car to get around.
Vallejo
Any hotel in Vallejo will be less than 5 miles from the wedding. Vallejo has a ferry to San Francisco, it's right next to wine country, and hotels here tend to be less expensive than in the towns you've heard of. Some of the Vallejo hotels offer discounts to Six Flags Marine World which is also right here.

1000 Fairgrounds Dr., Vallejo, CA 94589
1-800-533-5753 for reservations
$89/night group rate.

Ask for Gilbert/Rasmussen wedding. This is a very nice hotel, and it is literally right across the street from 6 Flags Marine World, so if you're planning to check out the roller coasters while you're visiting,you won't need to pay for parking. If the group rooms have all been booked, give us a call.We have the option to increase the number of rooms at the group rate.All rooms with two doubles have a refrigerator in the room. You can get two adjoining rooms if you like, ask for Tara Indorato when you call if you want adjoining rooms, she'll set you up.

Hairdryer in Room, Iron, Guest Laundromat, In Room Movies, Safe Deposit Box, Room Service, Restaurant, Radio, Outdoor Pool, Pool, Exercise Gym, Copy Service, Coffee Maker in Room, Bath Tub, Bar/Lounge, AM/FM Alarm Clock, Air Conditioned, Wake-up Service, Laundry/Valet Services, TV Remote Control, Television with Cable, Pets Allowed, Modem Lines in Room.


44 Admiral Callaghan Dr., Vallejo, CA, 94591
(707) 643-1061 for reservations
We saw $62/night on an Orbitz.com search.

Air Conditioned, Continental Breakfast, Copy Service, Handicapped Rooms/Facilities, FAX, Ice Machine, Iron, Guest Laundromat, Modem Lines in Room, In Room Movies, Meeting/Banquet Facilities, No Smoking Rooms/Facilities, Free Newspaper, Pets Allowed, Outdoor Pool, Bus Parking, Outdoor Parking, Truck Parking, Restaurant, Safe Deposit Box, Telephone, Television with Cable, TV Remote Control


44 Admiral Callaghan Ln., Vallejo, CA 94591
(707) 648-1400 for reservations
We saw $89/night on an Orbitz.com search.

Sauna, steam room, pool, and spa. Free local calls & Free long distance access. Free deluxe continental breakfast. Free USA TODAY or The Wall Street Journal. 60% of all rooms Non-Smoking. Kids stay free, 18 & younger. Pool or exercise facilities In-room workspace. In-room coffee makers, hair dryers, irons & boards


1596 Fairgrounds Drive, Vallejo, California, United States, 94589
707-554-9655 for reservations
We saw $89/night on an Orbitz.com search.

Complimentary continental breakfast, heated swimming pool and whirlpool, spacious elegant guest rooms with a Victorian theme, all equipped with microwaves and refrigerators. Turn of the century main street districts with shopping, dining and entertainment at a variety of nearby restaurants, and a complimentary Marine World shuttle.


458 Fairgrounds Dr, Vallejo, CA 94589
(707) 642-7781 for reservations
We saw $65/night on an Orbitz.com search.

24 Hour Front Desk, Handicapped Rooms/Facilities, Express Checkout, Free Parking, Free Local Telephone Calls, Modem Lines in Room, No Smoking Rooms/Facilities, Pets Allowed, Pool, RV or Truck Parking, Television with Cable